Healthy Center by Ann is a place where you can benefit from the services of the best specialists in the field of personal and mental training, nutrition, physiotherapy, and sports medicine. A holistic approach and concentration of professionals from different fields give you the opportunity to take care of your health in one place.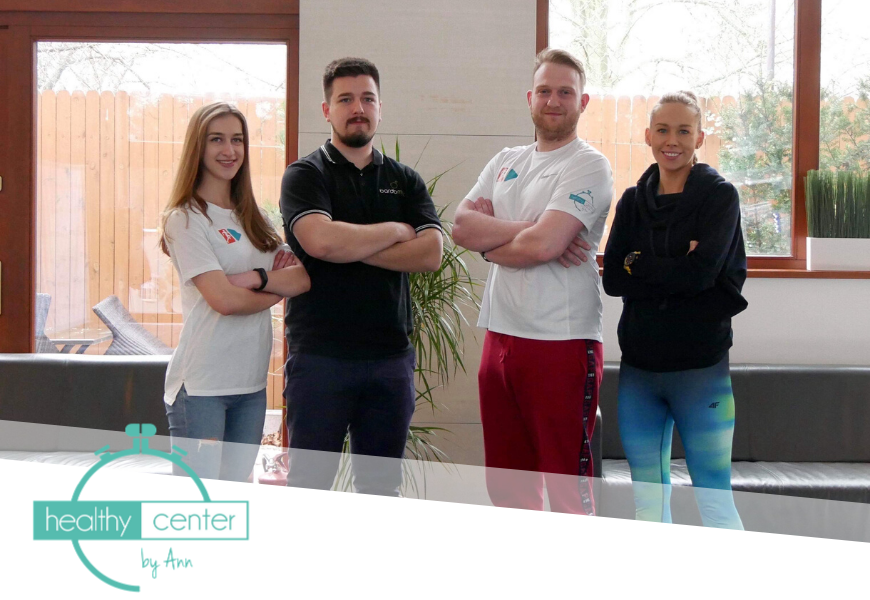 At Healthy Center by Ann you can take advantage of professional physiotherapy. Qualified physiotherapists with many years of experience work in our Return to Play partner office. They use innovative and effective methods to work with the patient, help them fully adapt to pain and injury, and teach how to prevent injury and overload.
In particular, they deal with the diagnosis and treatment of injuries, chronic orthopedic problems, biomechanical disorders, rehabilitation after orthopedic surgery and the prevention of sports injuries. In the office, you can use, among others, from physiotherapy, orthopedic consultations, massage, kinesioprosthetics or dry sewing.
As part of our cooperation, we have provided Return to Play physiotherapists with rehabilitation equipment in our offer: Tecar therapy device – Doctor Tecar AVX, EPTE® percutaneous electrolysis device, iLUX 10 Duo high-energy laser and LaserNeedle – fiber optic laser for orthopedics. and sports. These are the highest quality devices that take customer service to an even higher level.
Therapeutic device TECAR – Doctor Tecar AVX
The secret of therapy using Doctor Tecar equipment is to connect a radio wave. with alternating current. This therapy is based on the effect of heat on the body, which, when formed at the cellular level, causes the expansion of blood vessels, thereby improving microcirculation and accelerating the metabolism of the tissues being treated.
The most important therapeutic effects are analgesic, anti-inflammatory, biostimulating and restoring normal metabolism. TESAR therapy solves health problems associated with diseases of bones and joints, as well as damage to ligaments and muscles.
EPTE® Transdermal Electrolysis Machine
The office in the Health Center, owned by Anna, belongs to several dozen prestigious institutions in Poland that carry out EPTE® percutaneous electrolysis procedures. This therapy is a breakthrough in the treatment of tendinopathy. The device works directly on damaged tendons using the painless method of galvanic microcurrents applied by an acupuncture needle and causes micro-damage to the tissue so that it can heal again.
The electrolysis process produces the controlled inflammation required to treat tendinopathy. It breaks down degenerated tissue and stimulates the body to produce new healthy tissue. EPTE® is a clinically proven, fast and effective therapeutic method for most tendon diseases. After just 48 hours, the patient regains range of motion and any pain is greatly relieved. As the first device for percutaneous electrolysis, EPTE® is certified by the European Union.
iLUX 10 Duo High Energy Laser
The iLUX high energy devices are the only devices with three wavelengths. They have as many as 7 modes of operation, and each of them has its own advantages and has various features, from which you can choose the best one for the treatment of chronic and acute diseases. Thanks to this device, five main therapeutic effects are achieved: analgesic, anti-inflammatory, biostimulating, anti-edema and stress relief.
The devices provide an immediate analgesic effect, which is especially important when working with athletes who need a quick recovery. High-energy laser therapy is widely used when working with athletes. The laser is used for various types of injuries such as sprains, muscle overloads, bruises or contractures. The cameras are used by the world's largest sports clubs.
LaserNeedle – Fiber Optic Laser for Orthopedics and Sports
LaserNeedle therapy is an innovative medical method for non-invasive and painless treatment of diseases in the field of orthopedics, sports, medicine and rehabilitation. LaserNeedle technology delivers precise tissue irradiation so deeper tissue can be stimulated for the fastest results.
With LaserNeedle therapy, you can achieve breakthrough results in the treatment of acute joint diseases – especially arthrosis and arthrosis, as well as many muscle injuries and tendon diseases. LaserNeedle has anti-edema, anti-inflammatory, analgesic and new cell growth.